We designed our video visits to be feel like you're meeting in person. In this video, Arin Sime, Founder and CEO of SimplyDoc, shows the features available in our HIPAA-compliant telehealth video visits.
Video showing the features available within every SimplyDoc telehealth visit
We include standard video conferencing features that come in handy for telehealth. Each user can turn their camera and microphone on or off, share their screen, and expand the video visit to full screen.
Patients and professionals can utilize the Call Settings button to check their internet connection speed, review their camera and microphone quality, and toggle between multiple video and audio devices.
Users can also Invite Participants to each video visit. This comes in handy when you'd like to loop a family member or another healthcare provider into the call.
Patients and professionals can also securely exchange messages and files from within each call. This makes it easy for therapists to "assign homework" between sessions and for doctors to provide handouts about medical conditions and lifestyle changes. Messages and files will appear here during every call with this patient and provider.
Providers have a private tab to take notes during each call. These notes are private to the provider and can never be accessed by the patient. Like messages and files, these notes will appear during every call with this patient, so you can easily reference their history.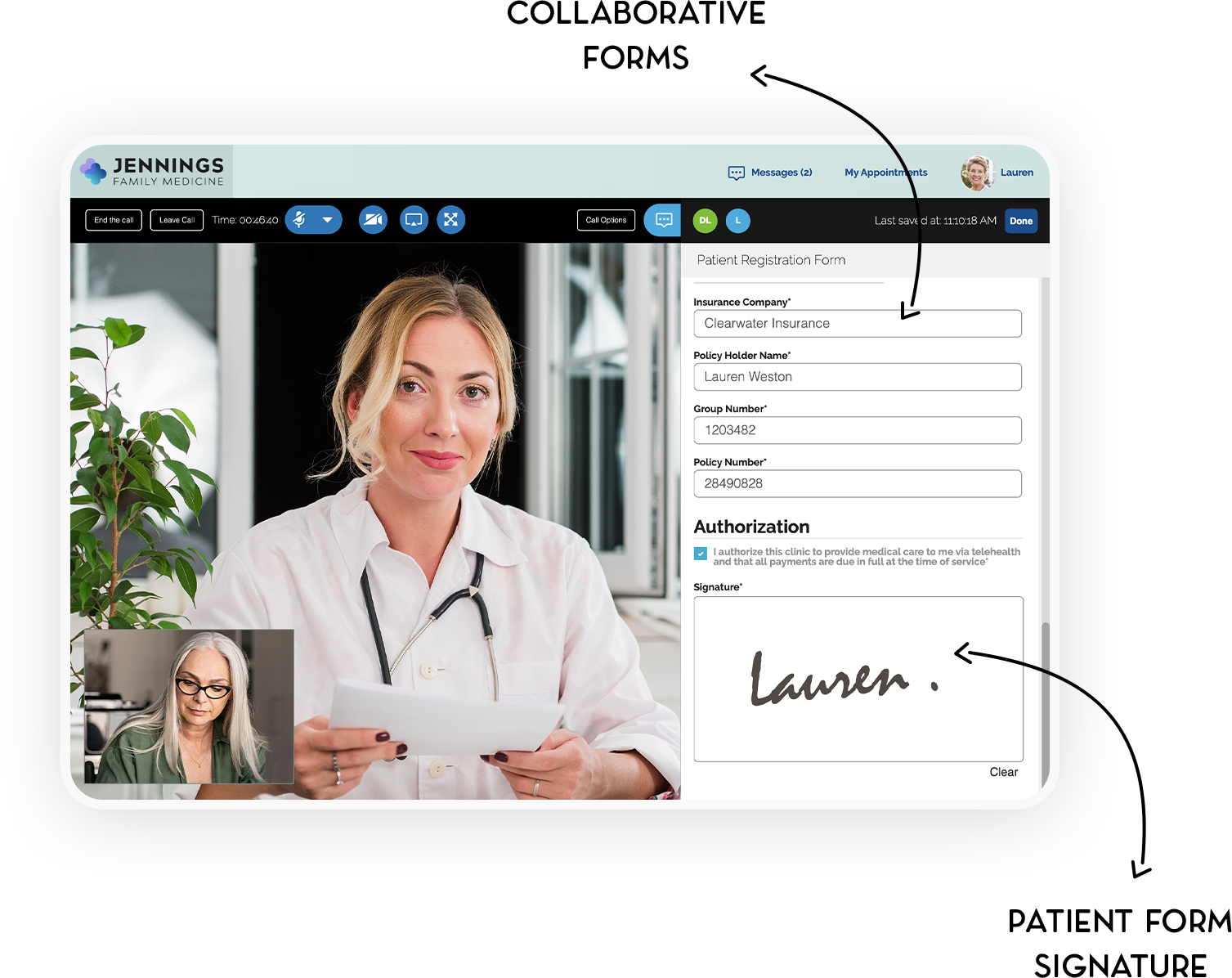 We can also create custom forms that are accessible within each video visit. These forms can be constructed to match the forms you provide in your office, with multiple types of fields and custom text. They can also be collaborative, meaning that both you and your patient can work together to complete them during your call. We'll talk more about forms in an upcoming blog post.
We can also integrate with your electronic medical record (EMR), electronic health record (EHR), or other medical software. This is another example of how SimplyDoc can be configured to meet your unique needs and workflow.
We believe that telehealth is transformative. SimplyDoc is a care-driven, patient-focused telehealth solution that allows you to meet with your patients and clients whenever and wherever you need to provide care. HIPAA-compliant and secure, SimplyDoc can be branded to your practice and customized to your workflow, meeting the unique needs of your office and patients. Contact us to bring patient-focused telehealth to your practice today!