Every SimplyDoc telehealth solution comes with a custom landing page that is unique to your healthcare practice. Your telehealth platform's landing page will include your logo, color scheme, branding, and any text you'd like to see. We intentionally built the landing page to be highly customizable to meet your needs and vision. In this video, Arin Sime, CEO and Founder of SimplyDoc, shows us two different SimplyDoc telehealth landing page designs.
Video showing two examples of custom SimplyDoc telehealth landing pages. Each custom telehealth solution comes with a unique landing page design with your logo, branding, and desired layout.
The first example is our demo site's landing page (pictured below). We listed the clinic's address, hours, and telephone number at the top of the screen, and we added a nice picture with three call-to-action buttons above the fold. Below the fold, we display a list of the clinic's healthcare professionals with a button to request an appointment with each of them. We also include provider search functionality, and this can easily be turned on or off according to your preference.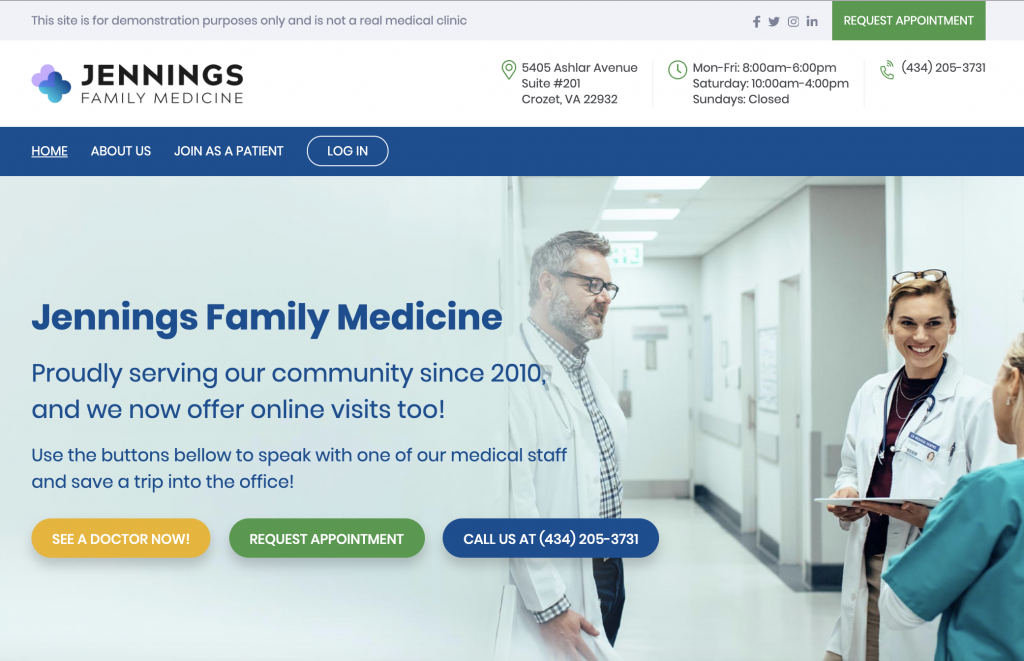 The second example is a landing page that we designed for one of our clients, UniWellness. This landing page (pictured below) looks completely different from the demo site's, giving you a better idea of just how much we can customize the landing page for your telehealth platform. For UniWellness, we put a short description, a call-to-action button, and their introductory YouTube video above the fold. Below the fold, we included text to provide a step-by-step explanation of their clients' flow with another call-to-action button. Lastly, we added an area for their counselors' pictures, bios, and pricing with a button to request an appointment with each of them. Although the provider search functionality is turned on for UniWellness, we are not displaying it on their landing page.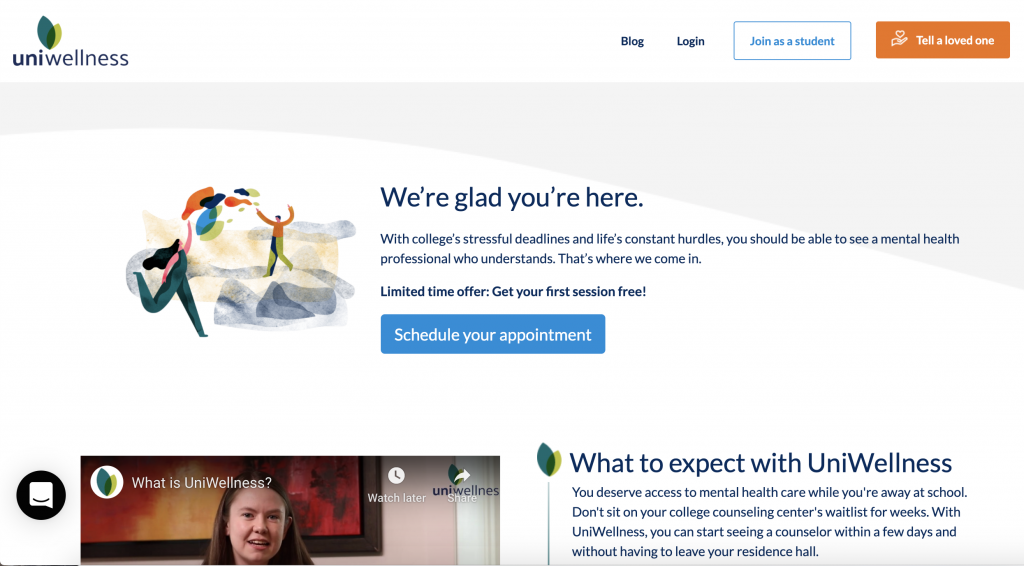 All of our telehealth platforms (and their landing pages!) are responsive. This means that they can work on any device with a web browser and internet connection. The layout and orientation change to fit the device being used, so you never have to worry about a button missing from the display on any device.
We believe that telehealth is transformative. SimplyDoc is a care-driven, patient-focused telehealth solution that allows you to meet with your patients and clients whenever and wherever you need to provide care. HIPAA-compliant and secure, SimplyDoc can be branded to your practice and customized to your workflow, meeting the unique needs of your office and patients. Contact us to bring patient-focused telehealth to your practice today!