When the coronavirus pandemic hit, you had to pivot to continue seeing your patients and clients. You likely chose a free video conferencing tool or telehealth option to get up and running quickly. Now that it's clear that telehealth is here to stay, it's time to reconsider your current tool and implement a long-term telehealth solution for your practice.
Telehealth makes healthcare more efficient and flexible for providers, more accessible and convenient for patients, and safer for everyone. Because of this, medical and mental health practices should be thinking about telehealth as a permanent addition to their processes—not just a short-term solution for the pandemic.
Re-evaluating your telemedicine platform
Your current telehealth tool worked for you during the first half of the year, but you should give it a thorough evaluation now that you've had a few months to use it. Is it secure enough to protect your patients' privacy? Does it offer all the features you need to replace in-person appointments? Does it present a steep learning curve for your patients? Each telehealth platform is different. Here are some items to consider when re-evaluating your current platform and considering your long-term solution.
Security and privacy: HIPAA compliance
Although HIPAA standards have been waived during the pandemic, they won't stay that way forever. For the privacy of your patients and their protected health information (PHI), invest in a telehealth solution that is secure, encrypted, and HIPAA-compliant. This ensures that your patients' telehealth data remains as safe as the records in your office.
SimplyDoc is HIPAA-compliant and uses state-of-the-art WebRTC technology to keep your data and video appointments safe and secure. Other free tools like Zoom are not HIPAA-compliant, and you risk a security breach every time you use them.
An intuitive and easy-to-use design with no downloads
Your telehealth platform should be clean, simple, and easy to use. If your patients and providers often become confused by your current tool, it's time to find a new solution. Its design should be intuitive and natural, reducing delays and rescheduled appointments while improving your patients' user experience.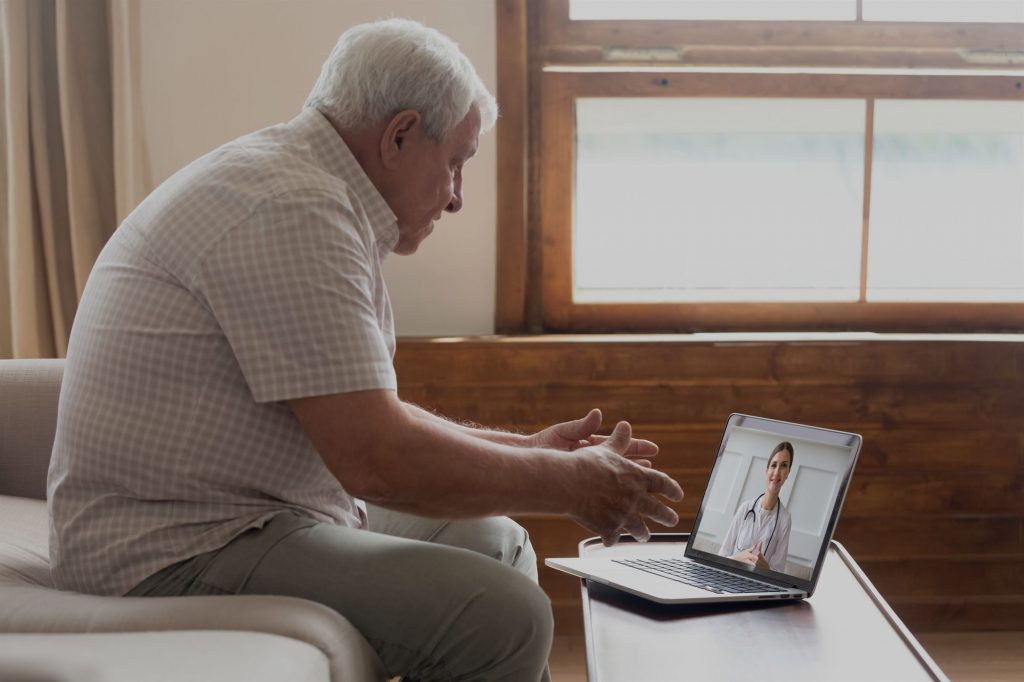 We created SimplyDoc with ease of use in mind. Our user experience (UX) design experts developed a simple interface and intuitive processes to ensure a seamless experience for both patients and providers. When we meet with your team (virtually, of course!) to configure your platform, they'll be involved so that your unique workflows are simple and intuitive, too. And with no downloads or installations necessary, our browser-based platform makes joining your appointment as easy as 1-2-3.
Workflow configuration and flexibility
Another important part of your telehealth solution is how well it fits into your workflow. You know the best way to work with your patients and run your practice, and your telehealth platform should complement that, not disrupt it. Because your workflow is unique to you, many telehealth options will force you to use their processes. It's important that the long-term solution you choose is flexible enough to accommodate your unique needs and adapt to your workflow, not the other way around.
SimplyDoc is proud to offer configurable telehealth solutions with your unique branding, landing page, workflow, and customizations. We meet directly with your team to understand how you work, what your needs are, and the ways we can adapt our platform to truly integrate with your practice. This is what sets SimplyDoc apart from other telehealth options.
Customer support
With technology, customer support is crucial. Your office can't field technical support calls all day, and your practice can't afford delays and rescheduled appointments from patients' confusion about your telehealth platform. That's why your solution should include customer support.
Unlike common tools like Zoom and Doxy.me, SimplyDoc offers unparalleled support so that your patients and providers can get their questions answered and difficulties resolved quickly and easily. Contact our support team via email or chat, and we'll respond with a friendly face and the help you need.
Next steps for your practice
Once you re-evaluate your telehealth platform, look for new solutions that meet your needs for the long-term. Schedule demos, ask questions, and carefully consider your options to select the best one for your practice.
At SimplyDoc, we're ready to make your telehealth solution truly yours. With HIPAA compliance, an intuitive design, workflow configuration, and a stellar customer support team, you can trust us to transform your telehealth experience and create a uniquely custom platform that your practice will use for years to come.